Future of Media 2014 este un eveniment ce reuneste numerosi specialisti din media, advertising si mobile (TV & Radio, publicitate, digital, devices, aplicatii mobile, publisheri online), care vor aduce in prim plan cele mai noi tendinte din media, strategii de comunicare eficiente in diferite mijloace media, tactici pentru dezvoltarea si extinderea afacerilor din industrie.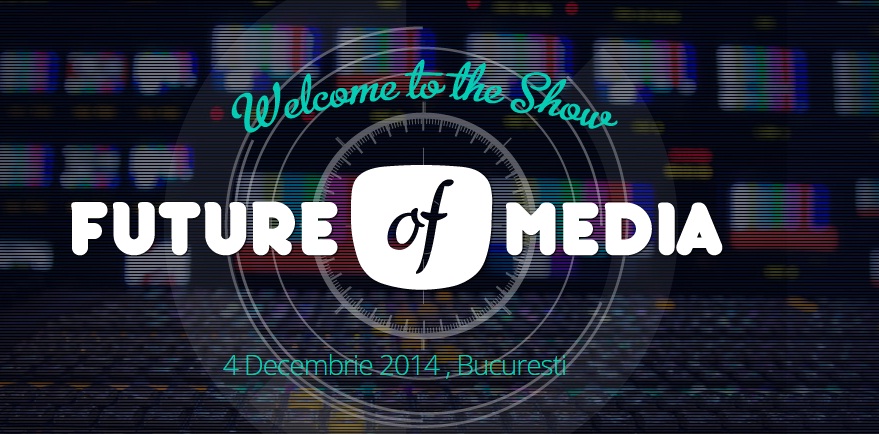 La eveniment vor participa:
Agentii advertising
Agentii media
Agentii de planning
Strategic Planners
Online Publishers
Bloggeri
Jurnalisti
Ce vei afla?
Cum poti oferi audientei experiente inedite
Care sunt noile platforme media
Cele mai inovatoare si creative campanii
Ultimele tendinte din industrie
Noi oportunitati in diferite sectoare de activitate
Cum se creeaza campanii de impact
Cum influenteaza media domeniul comunicarii.
Alege speaker-ul pe care vrei sa il asculti la eveniment
Lista speaker-ilor si a temelor dezbatute la Future of Media este deschisa ceea ce inseamna ca ai posibilitatea de a propune subiecte de discutie si / sau persoane din domeniu pe care le poti asculta. Adauga propunerile tale aici.
Inscriere la eveniment
Esti blogger sau lucrezi in media? Solicita o invitatie gratuita aici.
Ai o afacere si vrei sa fii la curent cu tendintele media pentru ca business-ul tau sa fie mereu de actualitate? Ia-ti bilet de acces de aici.
Future of Media 2014 este un evenimentul organizat de Evensys si va avea loc pe 4 decembrie la Bucuresti.