Halloween-ul aduce cu el si reduceri la o multitudine de produse, printre care telefoane, drone, ceasuri inteligente, Android box TV-uri, tablete si tablete grafice, etc. Acest eveniment aduce astfel o categorie larga de produse la preturi mai mici. Device-urile se pot comanda din depozitul din Europa, iar ele vin gratuit pana in Romania.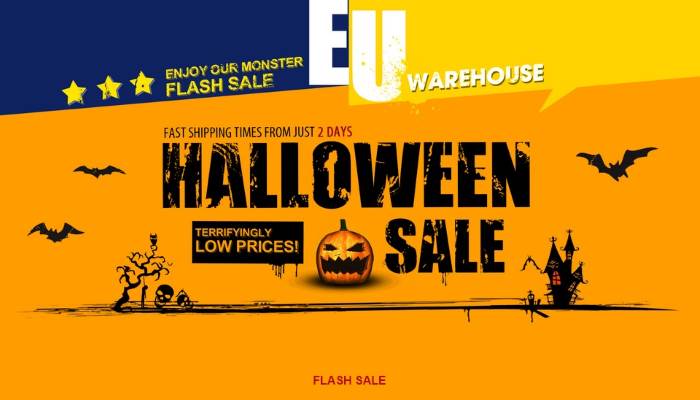 Gearbest vine cu niste reduceri destul de atractive de Halloween. Asta ar fi cam cea mai buna veste, insa cea de a doua veste buna este ca toate produsele din oferta se gasesc in depozitul din Europa. Asta implica un timp mai mic de livrare, iar taxele vamale sunt zero. De altfel, transportul este gratuit daca se comanda atat din China, cat si din Europa. Despre depozitul Gearbest din Europa am mai scris, iar mai multe informatii aveti la acest link.
Revenind la ofertele de Halloween, acestea sunt destul de bune pentru anumite produse. Altele au un pret scazut artificial, adica el apare redus, dar in realitate nu este. Insa eu am sa va fac o lista cu niste produse care merita achizitionate in functie de pret si de calitate + performanta.
Telefoane mobile
Ulefone be touch 2 – este un smartphone excelent care vine cu un procesor puternic din categoria mid range, care tinde spre high end. As putea spune ca este un procesor entry level pentru categoria high end. De asemenea, restul specificatiilor sunt de top la acest model.
Lenovo K3 Note k50 – un phablet foarte bun care are acelasi procesor ca la Ulephobe Be Touch 2, insa are un pret mai mic. Per total mi se pare o alegere foarte buna, mai ales ca el costa doar 155 de dolari.
ZTE Nubia Z7 – este un smartphone cu un design excelent, probabil unul dintre cele mai elegante telefoane.
BLUBOO X550 – este un terminal cu o autonomie foarte mare si un ecran luminos. Bateria de 5300 mAh poate rezista la 5 zile de utilizare, ceea ce mi se pare mai mult decat ok.
Ceasuri inteligente
U Watch U8 – mi se pare un ceas destul de fain, mai ales ca el costa doar 30 de dolari. Pretul nu este mare, iar specificatiile sunt bune.
iradish Y6 – este o copie pentru ceasul celor de la Apple, dar pretul lui este de 35 de dolari.
RWATCH R11 – este un smartwatch cu display rotund, ceea ce il face o alegere de luat in serios daca vreti ceva mai elegant, iar pretul este de 50 de dolari.
No.1 Sun S2 – arata exact ca un ceas normal, dar vine cu functiile unui ceas inteligent pentru 54 de dolari.
Drone
MJX X901 / X900 Mini 2.4G RC Hexacopter – este o mini drona care costa doar 22 de dolari.
Udi U27 – vine cu un design interesant si un pret de 38 de dolari.
Flying 3D X8 GPS –  una dintre cele mai bune alegeri pentru o drona, dar pretul este destul de mare.
Tablete
Teclast X98 Air II – este o tableta hibrid care vine cu Windows 8.1 si Android 4.4, avand procesor Intel.
Cube I6 3G Air – este o alternativa pentru Teclast X98 Air II deoarece vine tot cu Windows 8.1 si Android 4.4 KitKAt.
Cube I10 – reprezinta cea mai ieftina varianta pentru o tableta cu doua sisteme de operare.
Lista pe care am realizat-o eu este orientativa, insa sper ca v-am putut face o idee despre ofertele celor de la Gearbest.