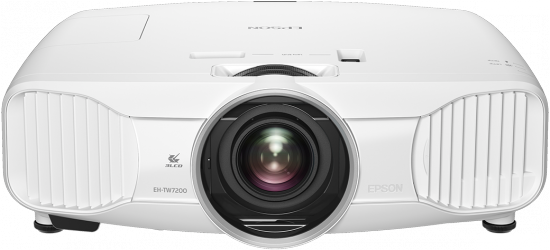 In mini concediul de Craciun, unul dintre colegii mei de la munca a testat proiectorul mentionat in titlu. Isi dorea sa achizitioneze unul pentru acasa asa ca a fost o buna oportunitate pentru el.
Din specificatiile disponibile pe site-ul producatorului, proiectorul pare sa fie unul reusit. Rezolutie 1920X1080, suport 3D activ, posibilitatea de a misca lentila atat pe orizontala, cat si pe verticala, lampa destul de luminoasa de 2000 lumeni, totul intr-un pachet masiv. Si cand spun masiv spun ca este de aproximativ 2 ori mai mare decat multe dintre proiectoarele pe care le-am intalnit. Ca sa aveti un ordin de comparatie, puneti doua foi A4 una langa alta pe latura mare si veti obtine o buna parte din amprenta proiectorului care se lauda cu o dimensiune de 466 mm X 395 mm.
Nici cu greutatea nu-mi este rusine. Am mai manuit proiectoare grele dar acesta, cu cele 8.4kg ale sale, le face pe celelalte sa para ca au fost de jucarie. Din punct de vedere al dimensiunilor, Epson EH-TW7200 este ca un Gulliver in tara piticilor. Iar cum la un asemenea proiector o telecomanda de dimensiune mica ar fi parut o jucarie, ma bucur sa raportez ca nu este cazul, aceasta fiind destul de mare, cu butoane masive si pare sa fie destul de bine construita incat sa reziste la cazaturi repetate.
La fel ca majoritatea proiectoarelor disponibile pe piata, nici acesta nu dispune de nici un fel de boxe integrate desi cred ca ar mai fi avut loc de doua boxe de minim 1W RMS. Partea faina la el este ca evacuarile pentru caldura generata de lampa sunt plasate in fata si nu mai primesti briza calda in fata cum se intampla la alte modele care au evacuarea in spate sau in lateral. Partea dreapta trage aerul iar stanga evacueaza. La cat e de mare, ma asteptam ca zgomotul produs de ventilatoare sa fie destul de mare dar, spre surprinderea mea, acestea sunt foarte silentioase.
Desi este un proiector medium-high end, nu dispune de nici un fel de control electronic al lentilei pentru ajustarea imaginii, setarea facandu-se manual pe verticala si pe orizontala.
Meniul este a fost chiar surprinzator de usor de utilizat, majoritatea setarilor putand fi facute in decurs de cateva secunde.
Venind la pachet cu o lampa de 2000 lumeni, luminozitatea proiectorului este unul dintre punctele forte ale acestuia. Este suficient de puternica incat sa poti sa vizionezi emisiunea sau filmul preferat intr-o lumina moderata iar setarea eco este suficienta pentru o sufragerie normala.
Culorile predefinite sunt ok, par sa fie la fel de luminoase ca cele deschise iar pentru testele realizate am folosit setarea Living room.
In cazul in care esti maniac si nu esti multumit de culorile presetate, ai posibilitatea de a modifica Color Saturation, Tint, Sharpness, Skin Tone etc. iar apoi le poti salva in memorie pentru a fi mai usor de accesat ulterior din telecomanda. Ratia contrastului de 120.000:1 este atinsa cu ajutorului unui sistem iris dinamic care poate fi oprit/pornit oricand, in cazul in care simtiti ca este deranjanta optimizarea automata. In testele realizate am lasat pornit sistemul si nu am simtit nici o modificare majora. Proiectorul ofera, de asemenea, posibilitatea de a reduce nivelul noise-ului sau, cu ajutorul functiei Super-resolution, sa imbunatatesti imaginea rezultata pentru a avea mai multe detalii. Functia Super-resolution, chiar si lasata pornita tot timpul, nu este deranjanta, lucreaza in fundal fara a genera imagini la care se poate observa acea post-procesare suplimentara care strica aspectul.
Pentru testele 2D am utilizat:
The Zero Theorem – culorile sunt vii, superbe, nu se simte o diferenta majora fata de un LCD
Serial: Band of brothers – negrul si griurile sunt excelente.
Jocuri: Call of Duty si Diablo 3 Reaper of Souls.
Daca in Diablo nu am simtit nici o problema in timpul jocului, in Call of Duty lagul intre input si output a facut de cateva ori sa fiu omorat. Cel putin asa imi place sa cred. 🙂
Pentru testele 3D, chiar daca calitatea imaginii si a luminozitatii sunt foarte bune chiar si cu setarile standard, mi s-au parut, totusi, un pic prea inchise si am folosit gamma +2 pentru mai multa luminozitate.
Am testat The Adventures of Tintin, Epic si How to train your dragon 2.
Aici, din cauza faptul ca imaginile sunt mult mai complexe si este nevoie de mai multa procesare, zgomotul produs de ventilatoare este mai mare decat la imaginile 2D. Nu mi s-a parut deranjant dar cu siguranta se simte.
Dimensiunea imaginii
Pozitionat la o distanta de 5 m de peretele pe care am proiectat, a rezultat o imagine cu o diagonala de 3m si 30cm. Dimensiune destul de buna, dar cred ca mai poate fi imbunatatita de catre producator.P-in-p ar trebui sa aiba inca un nivel de marime pentru a ajunge la diagonala unui TV de 110+ cm dar poate fi perfect pentru emisiuni de tip talk-show sau cand se transmit mai mult meciuri in acelasi timp.
In pachetul in care a venit am gasit o singura pereche de ochelari 3D, ceea ce reprezinta un dezavantaj daca vrei sa il testezi chiar de la inceput impreuna cu altcineva iar o noua pereche de ochelari Epson ajunge la aproximativ 400 lei in majoritatea magazinelor. Mi s-ar fi parut mai ok sa fie vandut un pic mai scump proiectorul dar sa includa 2 perechi de ochelari.
Singurul defect al ochelarilor pe care am putut sa il descopar in timpul testelor a fost in cadrul imaginilor rapide panoramice, aici intervenind sacadari/trepidatii sesizabile.
In incheiere, daca doriti sa achizitionati un proiector pentru acasa pentru un DIY home-cinema/cinematograf si daca dispuneti de aproximativ 7.000 lei, il recomand cu incredere. As fi adaugat cu mare placere mai multe poze ale proiectorului in articol daca nu as fi sters SD-ul aparatului din neatentie. Mea culpa!