THL 6000 este un concept personal de smartphone care mi-ar placea sa il vad in oferta celor de la THL. Mi-a placut mult modelul 5000 de la chinezi si cand l-am vazut am zis ca este bun, dar nu multumitor de bun. Ce as modifica eu la el o sa va prezint in articolul ce urmeaza.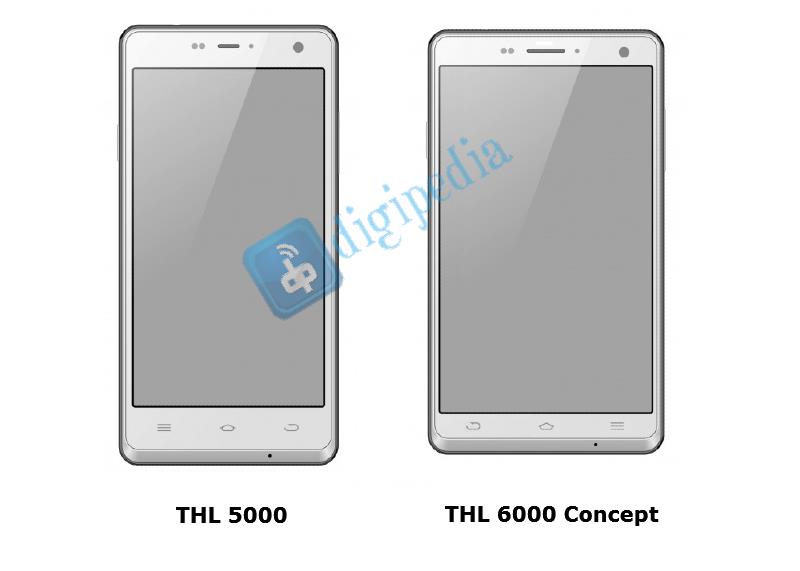 V-am prezentat ieri THL 5000, telefonul cu baterie gigant de 5000 mAh ce promite o autonomie de invidiat. Telefonul este bun, are procesor puternic, mult RAM, ecran mare, dar se poate si mai bine. Ceea ce mi-ar fi placut sa vad nu este imposibil de realizat, de fapt este un concept chiar ok si usor de implementat.
Cea mai mare schimbare este pe partea vizuala si anume design-ul. Prefer telefoanele de la LG sau Smasung pentru ca au un ecran bun, mai lat decat la Sony sau HTC. Pentru mine este un aspect foarte important ca un telefon sa aiba un ecran lat. Am micsorat si marginile foarte mult pentru ca imi plac telefoanele edge to edge. Totusi, nu am exagerat si am lasat niste margini ca la LG G3. Ecranul este mult mai spatios fara ca telefonul sa capete dimensiuni mai mari. De asemenea, am considerat ca este necesara o lungime mai mare si niste margini mai mici sus si jos. Astfel se poate obtine un ecran de 5,3 inci fara sa fie nevoie de dimensiuni foarte mari pentru un smartphone in sine. Un ecran mare care sa ocupe peste 77% – 80% din suprafata totala a terminalului nu numai ca arata bine, dar reduc din dimensiunile telefonului. Modelul din stanga este THL 5000 care are 5 inci, dar conceptul din dreapta poate avea 5,3 inci si o lungime mult mai mica. Latimea este mai mare, dar nu cu mult. Alaturi de un ecran mare si margini mici se obtine un telefon ideal.
La fel ca modelul THL 5000 as alege tot o baterie gandita de Amprius de 5000 mAh. Ecranul am spus mai sus ca as vrea sa fie de 5,3 inci. Un ecran mai mare nu inseamna si o autonomie mai slaba daca display-ul este unul bun din punct de vedere al eficientei energetice dar si al rezolutiei alaturi de densitatea pixelilor. O rezolutie ideala ar fi de 1366 x 768. Avand in vedere ca ecranul este mai lat, nu este buna o rezolutie 720p. Sa nu uitam ca iPhone 6 are 1334 x 750 si o densitate a pixelilor de 326. Pentru acest THL 6000 ar fi foarte buna cea de 1366 x 768 cu 330 ppi. Ecranul de 5,3 inci 768p alaturi de o baterie de 5000 mAh ar genera o autonomie fantastica, un factor esential in alegerea unui smartphone.
Hardware-ul ar trebui ales pentru a avea parte de o putere de procesare cat mai mare, dar in acelasi timp sa pastram autonomia ridicata. Ma gandeam la Qualcomm Snapdragon 410 care este un procesor pe 64 de biti ARMv8 cu patru nuclee de 1,4 Ghz si Adreno 406 ca si GPU. Desi cei de la Qualcomm au procesoare foarte bune, am decis ca MediaTek MT6732 este solutia perfecta pentru un telefon mobil. MT6732 are Mali T760 ca si procesor grafic. Acest procesor de la chinezi este un quad core de 1,5 Ghz avand nuclee ARM Cortex A53 pe 64 de biti. As fi ales acel Qualcomm, dar Adreno 406 este o jucarie pe langa Mali T760. Procesorul este suficient de bun pentru a se misca perfect telefonul si a rula impecabil pe internet, iar alaturi de acel Mali T760 este o combinatie ideala si pentru cele mai bune jocuri din Google Play. Pot sa spun ca MediaTek a realizat un procesor cu adevarat bun pe care mi-as fi dorit sa il vad si pe Elephone 5000. Astfel, MT6732 este mai mult decat un procesor foarte bun si eficient energetic de la chinezi.
Memoria RAM poate sa fie de 2GB sau 3GB. Nu cred ca este atat de important daca are 2 sau 3 GB, desi ideal ar fi 3GB. Diferenta nu va fi remarcabila, dar eu cred ca se poate pune si 3GB de RAM fara a influenta mult pretul. Memoria interna trebuie sa fie de minim 16GB si disponibilitatea de extindere prin card micro SD. Cred ca este ideal sa fie o versiune mai ieftina de 16 GB si una destul de scumpa de 64/128 GB.
Camera foto principala ar trebui sa fie de 13MP, iar cea secundara de 5MP. Camera de 13MP trebuie sa filmeze 4K, de altfel aceasta optiune este disponibila pe cateva terminale. Aceasta camera cu filmare 4K ar putea influenta destul de mult pretul, dar optiunea nu este obligatorie.
Sistemul de operare ideal este Android 5.1 Lollipop, un sistem care repara multe erori din Android 5.0 sau aduce niste functii utile inapoi care au fost scoase. Este ideal ca Android 5.1 sa ruleze pe un astfel de dispozitiv si pentru optimizarile aduse de Google acestui sistem de operare.
Conectivitatea ar trebui sa fie foarte buna. Ma refer ca pe langa 2G si 3G sa avem si 4G, optiune ce lipseste pe THL 5000. Nu mai spun de Wifi, Bluetooth, etc.
Acest terminal nu este imposibil de realizat. Cei de la THL au lansat modelul 5000 care este un smartphone foarte bun, dar cu un design putin modificat, adica mai lat si un ecran edge to edge alaturi de un procesor pe 64 de biti de la MediaTek ar dubla autonomia deja foarte mare si ar arata mult mai bine la design.
THL 6000 CONCEPT:
Display: 5,3 inci 1366 x 768 pixeli 330 ppi
Protectie ecran: Corning Gorilla Glass 3
Retea 2G: GSM 850/900/1800/1900MHz
Retea 3G: WCDMA 900/2100MHz
Retea 4G: LTE Cat. 4 150 Mbps
Dual SIM: DA
Brand procesor: MediaTek MT6732
CPU: quad core 1,5 Ghz Cortex A53
Chipset grafic: ARM Mali 760T
Frecventa Chipset Grafic: 500 Mhz
Memorie RAM: 2/3 GB
Memorie interna: 16/128 GB
Slot card extern: DA – maxim 128GB
Camera principala: 13MP
Camera secundara: 5MP
OS: Android 5.1 Lollipop
Conectivitate: GSM, WCDMA, 4G LTE, Bluetooth 4, Wifi, NFC
Baterie: 5000 mAh Li-polymer (Amprius)
Alte aspecte: OTG, Power Bank
Disponibilitate: CONCEPT