OneDrive este un serviciu de stocare online a datelor si a fisierelor dumneavoastra. Dezvoltat si administrat de Microsoft, OneDrive (anterior SkyDrive) este disponibil din anul 2007.
Saptamana trecuta, Microsoft a oferit cadou utilizatorilor OneDrive 100 GB gratuit pentru 2 ani iar acum Microsoft pune la dispozitie 100 GB gratuit pentru utilizatorii de DropBox.
Aceasta oferta este una limitata doar pentru utilizatorii Dropbox si doar pentru primele 10 milioane de oameni care vor sa obtina oferta. Aceasta oferta nu este disponibila si pentru utilizatorii OneDrive cu cont pentru afaceri.
OneDrive a semnat un contract de parteneriat cu Dropbox din decembrie anul trecut. Contractul consta ca utilizatorii de OneDrive au acces la aplicatiile Dropbox iar Dropbox ofera utilizatorilor editarea de documente in Microsoft Office. De cand parteneriatul a fost anuntat, Dropbox gazduieste peste 35 de miliarde de documente Microsoft Office.
Anuntul a fost facut pe contul oficial OneDrive de Twitter, vedeti mai jos anuntul:
Drop the box – move your photos, music, and docs to #OneDrive and get 100 GB for one year free http://t.co/cF6QmPg5LV pic.twitter.com/60drMjuF0S

— OneDrive (@onedrive) February 19, 2015
Pasii pentru a obtine 100 GB gratuit:
1. Ne conectam pe OneDrive.
2. Dupa conectare accesam acest link.
3. Click pe butonul Verify and get my storage.

4. Click pe DA, ca sa acceptam permisiunile de care are nevoie Preview OneDrive.
5. Dupa acceptarea permisiunilor dam click pe butonul Save to Dropbox.
6. Ne va aparea o fereastra in care trebuie sa ne conectam la contul de Dropbox. Daca nu avem un cont pe Dropbox putem sa ne facem unul foarte usor.
7. Dupa crearea unui cont nou sau logarea in contul de Dropbox, o sa va apara o fereastra ca in imaginea de mai jos: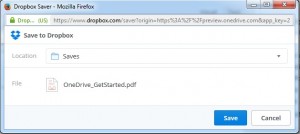 apasam Save, dupa o sa fiti redirectionati catre o pagina noua de la OneDrive si apasati butonul Get Started.
Nimic mai simplu, dar daca o sa primiti o eroare dupa apasarea butonului Save?
Daca o sa va apara o eroare, dupa apasarea butonului Save, tot ce trebuie sa facem este sa intram pe site-ul Dropbox ne conectam si deschidem fisierul Getting Started.pdf si fisierul OneDrive_GetStarted.pdf din folder-ul Saves si dam un scroll prin ele. Dupa reincercati cu pasii de mai sus, metoda o sa va functioneze.