Producatorii de smartphone-uri  se folosesc de nebunia Ice Bucket Challenge, lansata pentru o cauza nobila, pentru a-si promova produsele si rezistenta lor la apa.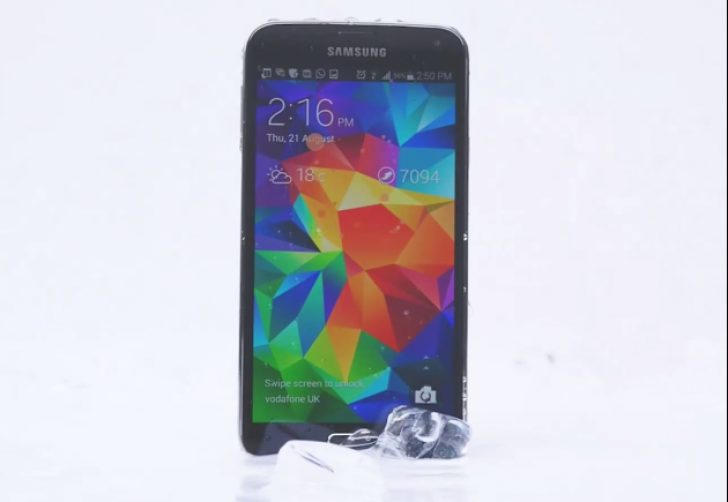 Primul supus tratamentului rece a fost Samsung Galaxy S5, smartphone-ul trecand cu brio de aceasta proba, dovada ca este rezistent la apa si la gheata. E de remarcat faptul ca Samsung nu a fost provocat de nimeni, asa cum spune regulamentul campaniei, ci s-a trezit filiala de la Londra sa faca publicitate pentru telefonul sau.
Videoclipul a strans in 3 zile aproape 3 milioane de vizualizari, iar comentariile pro si contra nu a intarziat sa apara. Majoritatea insa au criticat faptul ca Samsung foloseste o campanie umanitara pentru a-si promova produsul. Samsung a provocat HTC One M8, Nokia Lumia 930 si Iphone 5. Primele doua au trecut cu succes de proba, se pare ca nu si Iphone 5.
In ceea ce priveste campania umanitara, cel mai mare numar de vizualizari, peste 16 milioane conform Youtube.com, este Ice Bucket Challenge-ul lui Charlie Sheen care si-a explicat gestul si lipsa ghetii in galeata  astfel ""Because ice is going to melt, but this money is going to actually help people" ("Pentru ca gheata se va topi, dar banii acestia chiar vor ajuta niste oameni"). Charlie a donat 10.000 de dolari si a provocat mai departe pe actorul John Cryer, care a jucat rolul fratelui sau in "Doi barbati si jumatate", dar si pe producatorul serialului, Chuck Lorry si Ashton Kutcher, actorul care i-a luat locul in serial.