Te temi de persoanele sub ochii carora pot ajunge emailurile tale (guvern, persoane carora nu le este destinat emailul, colegi, iubita curioasa) ? Solutia este criptarea mesajelor, iar pe Gmail, spre exemplu, este foarte usor de facut.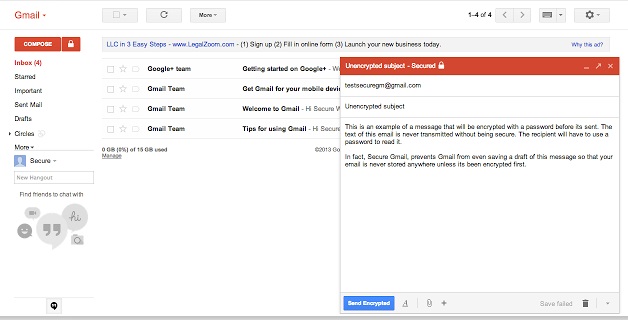 In primul rand ai nevoie de browserul Google Chrome si de o extensie a acestuia: Secure Gmail (criptare email). Te poti folosi de aceasta functie numai cand trimiti unui utilizator Gmail, altfel destinatarul nu va putea citi emailul (vorbim de cei care utilizeaza Yahoo, Hotmail, etc).
Cum o faci? Deschizi Google Chrome, instalezi extensia Secure Gmail (asta doar prima data, ulterior aceasta va ramane instalata, se instaleaza foarte usor si gratuit din WebChrome), intri in cont, alegi creare email si apesi butonul mic, cu lacat, aparut in urma instalarii extensiei. Dupa ce l-ai apasat, compui emailul in modul normal, iar la final alegi encrypt and send, un alt buton aparut tot in urma instalarii extensiei Secure Gmail. Acela este si momentul in care ti se va cere sa setezi o parola, cu ajutorul careia va putea fi citit emailul.
Cum citesti un email criptat primit? Alegi butonul "decrypt message with password", introduci parola si citesti. Este bine sa retii aceasta parola, pentru ca ea iti va fi solicitata de fiecare data cand vrei sa recitesti emailul respectiv.
Repet, este utilizabil doar pentru cei care folosesc Gmail, atat expeditor cat si destinatar.
Ma intreb daca folosirea criptarii ajunge si in ochii celor de la Guvern si daca aceasta nu ridica cumva semne de intrebare asupra activitatilor celor care folosesc criptarea. Cu toate acestea este mai mult decat indicat sa folosesti criptarea emailului atunci cand ai nevoie sa transmiti informatii importante, personale sau financiare. In plus, pentru Gmail, este mai mult decat usor de folosit.
Astfel emailul de la Google primeste alte puncte bonus din partea mea, daca pana acum eram incantata sa il folosesc, acum sunt si incantata si sigura de informatia pe care o transmit! GG Gmail!