Nokia a lansat astăzi primul terminal dintr-o nouă familie de smartphone-uri Asha, noul Nokia Asha 501. Terminalul sparge tiparele design-ului de smartphone-uri accesibile, prin culori îndrăzneţe, o construcţie de înaltă calitate şi o interfaţă cu utilizatorul inovatoare. Nokia Asha 501 este primul terminal ce rulează pe noua platformă Asha, creată pentru a face experienţa de utilizare mai rapidă şi mai responsivă. Platforma Asha ajută dezvoltatorii să creeze, să publice şi să monetizeze aplicaţii dezvoltate special pentru noua generaţie de terminale Asha.
Design îndrăzneț, interfaţă cu utilizatorul inovatoare
Nokia Asha 501 face accesibile design-ul şi calitatea de top pentru un număr mai mare de oameni. Terminalul este disponibil în şase culori îndrăzneţe ce complementează design-ul elegant. Terminalul este format din două părţi: o carcasă durabilă, înlocuibilă şi un afişaj din sticlă rezistent la zgârieturi ce include un ecran capacitiv de 3 inchi şi un singur buton "back". Noul Asha este un terminal compact, cântărind doar 98 de grame, pentru portabilitate excelentă.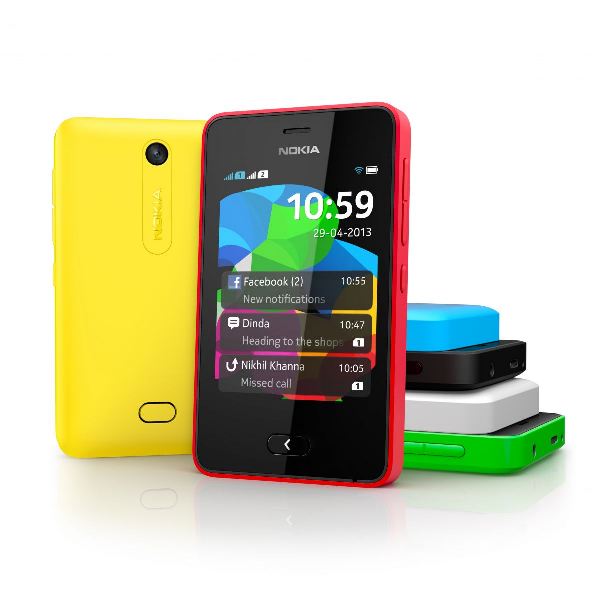 Nokia Asha 501 este creat pentru a oferi utilizatorilor acces mai uşor la tot ceea ce contează pentru ei, printr-un simplu gest swipe şi două ecrane principale: Home şi Fastlane. Home este un ecran de start tradiţional, bazat pe pictograme, pentru lansarea aplicaţiilor individuale sau accesarea unor capabilităţi specifice, precum funcţia de apelare sau setările telefonului. Noul ecran Fastlane este inspirat din modul în care oamenii îşi folosesc în realitate telefoanele. Contactele, reţelele de socializare şi aplicaţiile acesate recent, unice pentru fiecare persoană, sunt stocate şi afişate în Fastlane. Acesta redă un istoric al modului în care este folosit telefonul, oferind utilizatorilor o imagine a activităţii lor trecute, prezente şi viitoare şi îi ajută să facă multi-tasking, asigurând acces uşor la funcţiile lor preferate.
Experienţe de internet mai inteligente şi personalizate
Noul terminal Asha are preinstalat Nokia Xpress Browser, care comprimă traficul de date cu până la 90%. Acesta are scopul de a face navigarea mobilă mai rapidă şi mai accesibilă ca preţ. Nokia a anunţat, de asemenea, disponibilitatea aplicaţiei Nokia Xpress Now, o nouă aplicaţie web ce recomandă conţinut nou în funcţie de locaţia şi preferinţele utilizatorilor şi de subiectele populare. Aplicaţia va fi disponibilă din pagina de start a Browser-ului sau din Nokia Store.
"Nokia a depăşit aşteptările în privinţa a ceea ce este realizabil în categoria smartphone-urilor sub 100 de dolari cu un nou terminal Asha, care este diferit de celelalte dispozitivele de pe piaţă, având elemente de design inspirate de gama Lumia şi oferind o combinaţie de capabilităţi, servicii şi preţ apreciată de către cumpărătorii sensibili la preţ", a declarat Neil Mawston, Executive Director, Global Wireless Practice, Strategy Analytics. "Este un dispozitiv binevenit pe piaţă şi o opţiune ideală pentru consumatorii care doresc să treacă de la telefoane cu capabilităţi de bază la smartphone-uri."
Platforma Asha pentru următoarea generaţie de dispozitive
Noul Nokia Asha 501 a fost creat special pentru a oferi oamenilor cele mai bune experienţe mobile posibile, la un preţ accessibil. Este foarte eficient, oferind o autonomie a bateriei de până la 48 de zile în stand-by*. Asha 501 este primul smartphone bazat pe noua platformă Asha, care capitalizează investiţiile Nokia în Smarterphone, companie achiţizionată de Nokia în 2012.
Noua platformă Asha oferă dezvoltatorilor un mediu deschis, bazat pe standarde, pentru crearea de aplicaţii de calitate destinate consumatorilor. Dezvoltatorii pot crea aplicaţii pentru Nokia Asha 501 ce vor fi compatibile cu viitoare dispozitive bazate pe platforma Asha. Nokia oferă dezvoltatorilor șansa să câştige mai mulţi bani, beneficiind de acoperirea globală a Nokia Store, de instrumente precum Nokia In-App Payment şi Nokia Advertising Exchange (NAX) şi de reţeaua cea mai extinsă de operatori ce permit plata pe factură.
Multe dintre cele mai populare applicații sunt deja disponibile sau în dezvoltare pe platforma Nokia Asha incluzând CNN, eBuddy, ESPN, Facebook, Foursquare, Line, LinkedIn, Nimbuzz, Pictelligent, The Weather Channel, Twitter, WeChat, World of Red Bull și jocuri de la Electronic Arts, Gameloft, Indiagames, Namco-Bandai și Reliance Games. WhatsApp și alți parteneri cheie continuă să exploreze noul Asha.
Experienţa HERE va fi disponibilă spre descărcare pentru Nokia Asha 501, începând din al treilea trimestru al acestui an şi va include servicii de hărţi de bază.
"Noul Nokia Asha 501 ridică ştacheta pentru ceea ce este posibil în design-ul şi optimizarea unui smartphone accesibil," a declarat Timo Toikkanen, Executive Vice President, Mobile Phones, Nokia. "Sinergia dintre design-ul fizic şi motorul care este noua platformă Asha a creat un smartphone ce oferă atât stil cât şi substanţă la un preţ excelent."
Specificaţii şi disponibilitate
Noul Nokia Asha 501 este disponibil în variantele single-SIM şi dual-SIM cu EasySwap, ambele oferind suport WiFi. Alte specificaţii:
• Dimensiuni: 99,2 x 58 x 12,1 mm; 98 grame
• Cameră foto: 3,2 MP
• Autonomie a bateriei în standby time, single-SIM: pînă la 48 de zile**
• Autonomie a bateriei în standby time, dual-SIM: până la 26 de zile***
• Timp de convorbire: până la 17 ore
• Memorie suplimentară de 4GB (cartelă inclusă în pachetul de vânzare), extensibilă până la 32GB
• 40 de jocuri EA Games gratuite, în valoare de 75 de euro, ce pot fi descărcate din Nokia Store
• Culori disponibile: roşu aprins, verde aprins, cyan, galben, alb şi negru
*La utilizarea variantei single-SIM
**În condiţii de testare; rezultatele pot varia, în funcţie de utilizare.
***Timpul de implementare diferă de la țară la țară
Nokia Asha 501 urmează să fie livrat începând din iunie 2013. Se estimează că terminalul va fi disponibil prin aproximativ 60 de operatori şi distribuitori în peste 90 de ţări din întreaga lume.