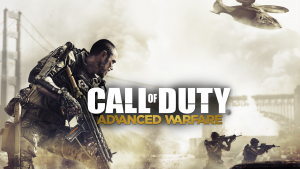 Ca orice joc despre razboi, povestea incepe cu o batalie in Seoul, batalie la care luam si noi parte ca soldat al US Marine Corps. Obiectivul este de a ajuta la cucerirea orasului , iar apoi sa ajutam la lichidarea unei grupari de teroristi internationali reuniti sub numele de KVA.
Advance Warfare vine cu cateva noutati cum ar fi:
un exoschelet care amplifica puterea soldatului in asa fel incat poate sari mai departe sau ii poate amortiza cadearea , poate lovi un soldat cu mai multa forta sau il ajuta sa se catere pe ziduri;
grenade – unele cu efect pasiv (pot indica unde sunt tintele, EMP effect pentru dezactivarea dronelor) sau active pentru a distruge.
Upgrade-urile de forta, agilitate, armura, arme pot fi deblocate intre misiuni, cu mentiunea ca unele se simt iar altele nu.
Gameplay-ul se desfasoara fluent fara caderi de frame-uri, stilul de joc furibund creand adrenalina si de cele mai multe ori din cauza vitezei de desfasurare a bataliilor este posibil sa pierdeti o misiune. Jucat pe modul easy/normal inamicii devin previzibili, murind dupa ce ai golit aproape un incarcator in ei.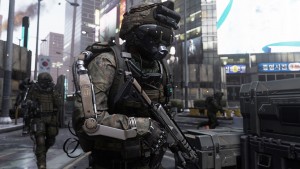 E important de mentionat faptul ca jocul nu a fost creat pentru partea de single player, ci pentru partea de multiplayer. Aici avem cateva lucruri importante:
Boti, foarte utili pentru cei care nu au mai avut contact cu Call of Duty si  pentru a va antrena si invata hartile;
Retea locala sau multiplayer online in functie de preferinte;
Split-screen multiplayer pentru cei care vor sa-si demonstreze skilurille;
Co-op de tip "survival'' in care maxim 4 jucatori trebuie sa reziste valurilor de inamici;
In concluzie, Call of Duty Advanced Warfare este un shooter care schimba putin fata razboiului cu care eram obisnuiti pana acum in Call of Duty, aducand lucruri noi si incitante care zic eu, merita incercate. Jocul ofera o experienta incitanta si unica care va va captiva pe tot parcursul lui.