Ca de obicei am inceput sa joc Mass Mayhem 5 Expansion cu un scepticism amar. Alt joc cu zombie, bleah! Dar acel "bleah" a devenit de la nivel la nivel un cuvant uitat, am lasat deoparte sentimentul initial si am intrat in aventura cu soldatul care trebuie sa treaca de zombie nebuni, cu topoare si galeti pe cap!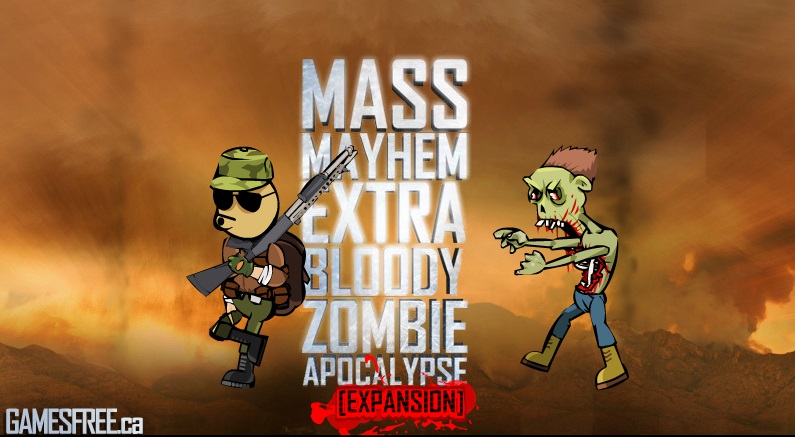 Niciodata nu ma astept la prea mult de la jocurile flash pentru ca pana la urma sunt… doar jocuri flash, dar nu o data am fost atat de prinsa de ele incat nu m-am putut ridica de la birou. S-a intamplat asta cu un joc de gatit care iti punea indemanarea la incercare si iti dadea dureri febrile la incheietura mainii, s-a intamplat asta cu Earn to Die 2012 despre care am scris aici acum ceva vreme si cu un joc cu masini, Renegade Racing, al celor de la Not Doppler.
Cheia succesului, din punctul meu de vedere, sta in upgrades si nu multi inteleg ca trebuie sa fie niste upgrades fara de care sa nu poti trece la nivelul urmator. Asta e tot scopul pana la urma, nu? Ei bine, cei de la GamesFree.CA au stiut sa isi joace cartile cu noul Mass Mayhem 5 Expansion.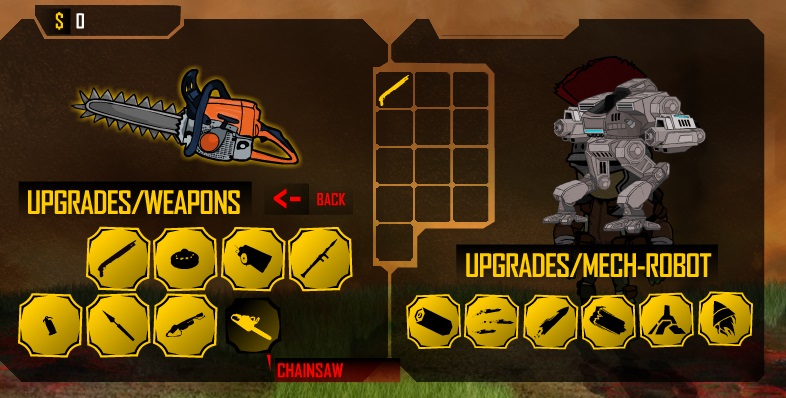 Povestea e simplă, soldatul nostru trebuie să înfrunte valurile de zombie folosind toate armele din dotare. Există mai multe tipuri de bombe – C-4, grenade, mine, dar și arme ca – arzător, drujbă, lansator de rachete, clasicul shotgun, iar mie cel mai mult mi-au placut lancile. De ce? Pentru ca personajul se transforma un pic intr-un Vlad Tepes! Satisfactia pe care o ai cand tragi zombie in teapa e enorma! Oricat de stupid ar suna asta.
Nu ne oprim la arme, soldatul poate folosi masina, dar si mech-robotul care are si el parte de tot felul de utilitati – arme, jetpack si alte bunataturi cu care poate fi echipat. Drept sa zic mie nu mi-a placut robotul, asa ca am trecut prin nivele destul de simplu, pe jos, cu pusca in mana, plantand mine, fericita ca si cum as fi plantat floricele pe campii.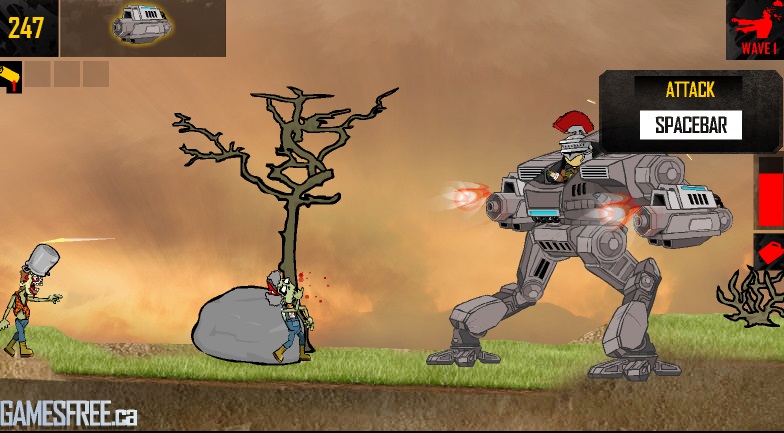 De-a lungul luptelor, trupele aeriene ofera tot felul de ajutoare – cutii cu diverse tipuri de munitie, iar la valul 5 de inamici te asteapta o mare surpriza! In fiecare arie este cate un "big bad wolf" de care trebuie sa treci, un fel de provocare suprema prin care arati ca meriti sa treci la urmatorul set de niveluri. Primul este The Farmer From Hell, apoi un general traznit ce conduce un tanc si vrea sa te zdrobeasca. Initial ai impresia ca nu poti trece de niciunul dintre ei, dar secretul sta in…. hey! Nu o sa va zic cum sa treceti de ei, incercati singuri, sa va omoare si pe voi de cateva ori cum m-au omorat si pe mine pana sa reusesc 😀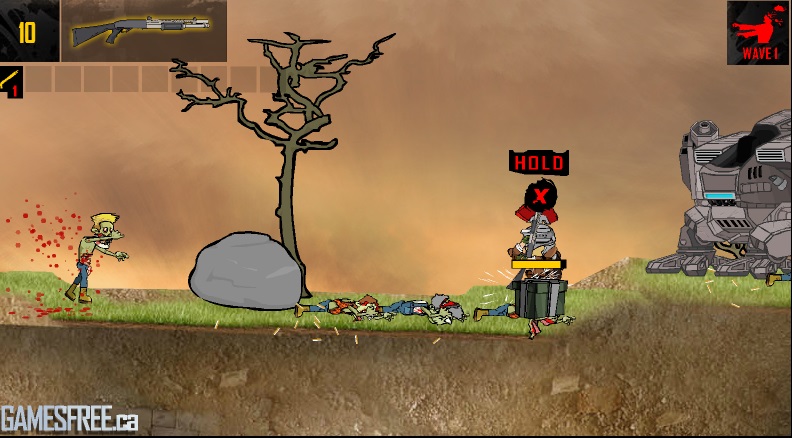 Atentie mare, atunci cand ramaneti la un nivel, nu uitati sa salvati jocul, exista aceasta optiune. Eu nu am folosit-o si am pierdut cam tot progresul de pana atunci, ceea ce m-a cam demoralizat pentru a trebuit sa o iau de la capat.
Unul dintre putinele lucruri care nu mi-au placut a fost faptul ca nu exista un sfarsit propriu zis, dar nu poate fi totul perfect! Puteti sa jucati si voi Mass Mayhem 5 Expansion online.
Ca un ultim hint: Puteti alege modul in care sa arate soldatul vostru – accesati categoria Swag din acelasi meniu in care se afla si Upgrades.  Eu l-am pus pe soldat sa lupte cu zombie la bustul gol, are ceva muschiuleti 😀