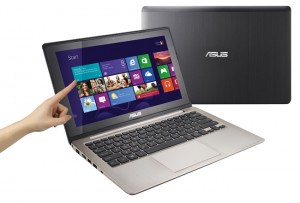 Odata cu aparitia Windows 8, au reaparut si ecranele tactile la laptopuri. Astfel, cei de la ASUS vin cu doua modele, ASUS VivoBook S200 si S400, menite sa deschida noua serie de portabile cu ecrane tactile. Acestea vin cu un design deosebit de atractiv, dar si cu functii interesante ce permit o productivitate crescuta atunci cand utilizati un astfel de laptop. Instant-on permite repornirea laptopului in doar 2 secunde, iar functia WebStorage ofera un spatiu de 32 de GB fiecarui utilizator de VivoBook pe o perioada de 3 ani.
In trecut au mai existat laptopuri cu ecrane tactile, se numeau tablete, inainte de aparitia tabletelor asa cum le stie toata lumea astazi. Am folosit una in acele vremuri si, desi aveai nevoie de stylus pentru a utiliza ecranul tactil (rezistiv), experienta oferita era una deosebita, iar productivitatea era mult mai mare cu un astfel de ecran. Puteai sa faci drag and drop, era dotata cu Windows XP la vremea respectiva si, in afara de pret care era destul de mare, eu imi luasem una second hand si avea numai plusuri.
Odata cu aparitia tabletelor cu ecran capacitiv (cele pe care le poti manevra usor, chiar si cu un singur deget), aproape totul s-a schimbat si, cumva, laptopurile cu ecran tactil au intrat intr-un con de umbra o vreme. De multe ori, atunci cand utilizez o tableta, imi lipseste tastatura, pentru ca tastatura de pe ecran nu ma poate ajuta sa scriu un articol pe blog la fel de confortabil precum o face un laptop. De multe ori, dupa folosirea tabletei cu o tastatura atasata, m-am trezit ca dau "click" cu degetul pe iconitele de pe desktop, incercand sa le deschid. De fiecare data cand ma reintorceam la laptop, ecranul tactil era unul din lucrurile carora le simteam acut lipsa.
Astfel, ASUS VivoBook e menit sa aduca o experienta noua si foarte placuta in utilizarea unui laptop. Ganditi-va, ce e mai usor: sa mergi cu mouse-ul in zona in care ai un nou tab sau o noua fereastra, sau pur si simplu, printr-un gest natural, aceasta sa devina activa? Pentru mine, unul, e clar ca ecranul tactil este un mare avantaj la un laptop. ASUS doar a identificat nevoia de a oferi mai mult si, in spiritul ASUS Customer Happiness 2.0 a si facut pasul spre oferirea unui stil de viata mai plin de satisfactii.
Designul
Format dintr-un ecran de sticla si o carcasa metalica, in aceeasi linie stilistica precum ASUS ZENBOOK, acesta este foarte atractiv. Cu toate acestea, exista si trasaturi distincte pentru seria VivoBook. De asemenea, cele doua modele VivoBook S200 si S400 sunt disponibile intr-o gama variata de culori vibrante.
Interfata tactila
Asa cum va spuneam si la inceput, interfata tactila e menita sa ofere o utilizare mai naturala, intuitiva, a laptopului si este optimizata pentru mediul Windows 8.
Modelele sunt dotate cu panouri tactile multi-point, dar si cu touchpad-uri care integreaza tehnologia Smart Gesture. Oricum, cred ca eu as folosi touchpad-ul doar pentru acele gesturi care sa faca scroll, back si alte functii detinute de Smart Gesture. Acestea vor oferi o experienta unica, fiind si esenta laptopurilor VivoBook.
Sunetul
Ambele modele vin cu ASUS SonicMaster integrat, ceea ce ofera experiente realiste, redand un sunet puternic, dar si o plaja mult mai larga. La acestea, se adauga un bass mai profund si o claritate a vocii. De asemenea, cele doua modele vin si cu instrumente de procesare a sunetului, precum MaxxAudio, castigator al premiului Technical Grammy.
Modelul VivoBook S200, desi are dimensiuni reduse, vine cu difuzoare concepute pentru modelele de 14-15 inch, rezultand un sunet mai puternic decat la majoritatea notebook-urilor.
WebStorage in cloud
Asa cum era si normal, pe langa spatiul generos oferit de hardware, aveti la dispozitie si 32 de GB spatiu de stocare in cloud prin ASUS WebStorage. Acesta este gratuit timp de 3 ani.
Caracteristici Tehnice:
Ambele serii au caracteristici tehnice de invidiat, iar pretul este unul foarte bun in comparatie cu caracteristicile tehnice si facilitatile pe care le ofera; eu, personal, as alege modelul cu ecran de 11.6 inch si procesor Intel Core i3 Ivy Bridge, dar dupa cum vedeti mai jos, exista o gama destul de larga de variante de procesor pentru ambele serii.
ASUS VivoBook S200
Ecran: 11.6″ 16:9 HD (1366 x 768) LED backlit
Procesor: Intel Core i3 Ivy Bridge /  Intel Pentium 987 / Intel Celeron 847
Video: Intel HD Graphics
Memorie: 4GB 1333MHz DDR3 RAM
Hard disk: 500GB, 5400rpm HDD
Dimensiuni: 30.3cm x 20.0cm x 21.7mm
Greutate:1.40Kg with 38W/h polymer battery
Pret: intre 1.899,99 lei si 2.439,99 lei
ASUS VivoBook S400
Ecran: 14″ 16:9 HD (1366 x 768) LED backlit
Procesor: Intel Core i7/i5/i3 / Intel® ULV Celeron 987 / Intel ULV Celeron 847
Video: Intel HD Graphics
Memorie: 4GB 1600MHz DDR3 RAM
Hard disk: 500GB 5400rpm HDD + 24GB SSD (cache)
Dimensiuni: 33.9cm x 23.9cm x 21mm
Greutate: 1.8Kg with 44W/h polymer battery
Pret: intre 1.899,99 lei si 2.439,99 lei

Acest articol participa la cea mai tare batalie din online prin intermediul blogwars.ro .