Multi au auzit de seria Republic of Gamers de la Asus. Ei bine, multi oameni sunt pasionati de jocurile pe calculator dar acestea necesita un hardware mai bun. O solutie ideala pentru un gamer este Asus G751JY-T7015D care are tot ce trebuie pentru a rula cele mai noi jocuri. Am ales acest model deoarece este cel mai bun laptop din punct de vedere al racirii si al performantei. Acest Asus are un hardware de top, un display foarte bun, multa memorie avand un HDD spatios si suficient RAM pentru a rula impecabil orice joc. Nu este un model pentru oricine, dar pe Digipedia gasiti mai multe modele de laptop-uri pe care le puteti achizitiona in functie de preferinte si de utilizare.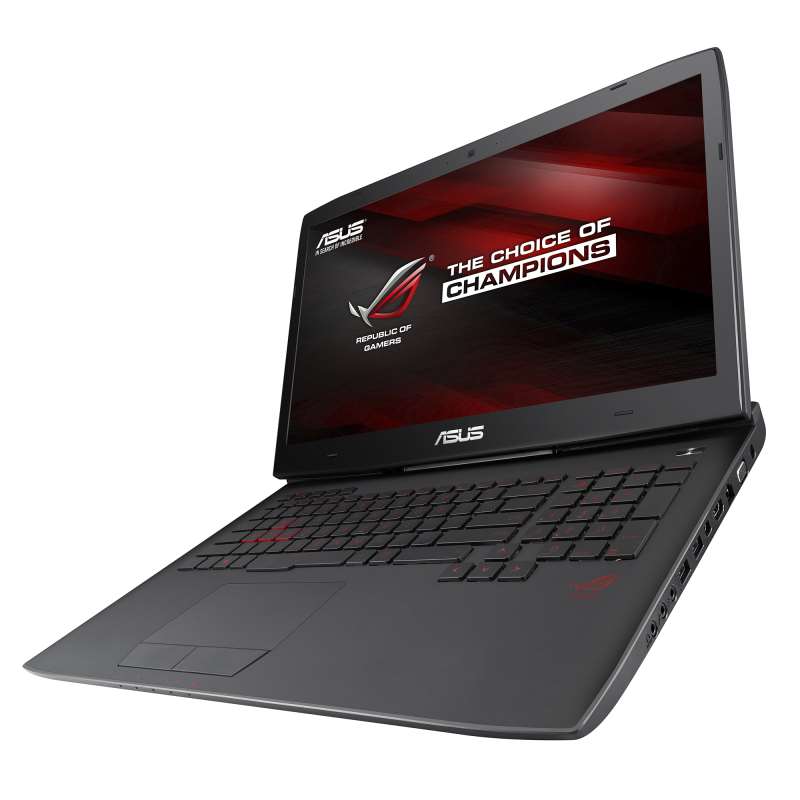 Asus G751JY-T7015D este un model de top si face parte din seria Republic of Gamers. Dupa cum spune si numele, modelul este un device premium cu un pret pe masura. Dar pretul este destul de bun raportat la alte modele care costa si peste 7,000 – 8,000 de lei. Am ales un model care sa faca fata la cele mai noi jocuri, care sa aiba o racire foarte buna si un display luminos.
Laptop-ul are o diagonala de 17,3 inci cu o rezolutie de 1920 x 1080 pixeli adica full HD. O astfel de rezolutie genereaza o imagine clara pentru jocuri si pana la urma asta si vrem. Pentru un PC vrem un monitor bun atunci cand ne jucam, deci si la laptop avem nevoie tot de o solutie foarte buna mai ales ca acest laptop este special pentru categoria gaming.
In general laptop-urile din seria ROG a celor de la Asus sunt destul de groase si au un aspect neplacut. Un laptop trebuie sa fie cat mai usor si cat mai performant, cel putin asa ar fi ideal. Cand vrem un laptop pentru gaming nu putem sa avem parte de unul slim pentru ca necesita o racire mult mai buna datoria faptului ca este prezenta o placa video puternica. Acest laptop nu este insa la fel de gros ca altele din seria ROG (republic of gamers). Mi-a placut ca este un laptop care se poate cara destul de usor avand in vedere ca are o racire foarte buna. Trebuie sa tinem cont de toate asptectele la un laptop de jocuri. Grosimea si performanta sunt niste aspecte impornante, in opinia mea. Astfel, Asus G751JY-T7015D are un aspect placut, dar si o performanta foarte mare.
Procesorul este un Intel i7 4710 HQ de 2,5 Ghz care are 4 nuclee reale de procesare. Cu ajutorul tehnologiei Hyper Threading dezvoltate de Intel se obtin 8 nuclee dintre care 4 sunt virtuale. Acest procesor beneficiaza de cea mai noua arhitectura Haswell si dispune de un procesor grafic incorporat HD 4600. Avand in vedere ca laptop-ul va fi folosit si pentru activitati obisnuite precum navigarea pe internet, youtube, facebook, etc. este ideal sa avem parte si de un procesor grafic integrat. Spun asta pentru ca Intel HD Graphics 4600 are o eficienta energetica foarte buna fata de placa video dedicata a celor de la nVidia. In momentul in care stam pe baterie vom vedea imediat diferenta de autonomie dintre nVidia si Intel HD Graphics. Placa video dedicata este utilizata doar cand este necesara o putere de procesare mai mare, dar in rest este folosita placa integrata.
Placa video dedicata este o nVidia GeForce GTX 980M cu 4GB de memorie RAM GDDR5 si 256 biti. Placa video este excelenta pentru a rula orice joc la rezolutie full HD. Este un model de top de la nVidia si este o placa foarte buna care nu va dezamagi nici un gamer. Asus a stiu sa imbine performanta cu designul. Am mai vazut si modelul Asus G751JT-T7010D, dar acesta are placa video GeForce GTX 970M care are doar 3GB de memorie RAM GDDR5 si doar 192 biti iar diferenta de pret este de 300 de lei, astfel am ales un model cu o placa video de top pentru ca mi se pare prea putin 300 de lei ca sa nu dau in plus pentru ceva mult mai bun.
HDD-ul are 1TB 7200 rpm suficient pentru multe jocuri si filme. Se poate pune si un SSD suplimentar pentru cine doreste o performanta mult mai mare si are un laptop perfect cu un procesor foarte rapid si un GPU puternic. Eu as spune ca un SSD la acest laptop ii va dubla performanta. In fond, HDD-urile sunt depasite si incetinesc cu mult performanta laptop-urilor. Capacitatea memoriei RAM este de 8GB. Laptop-ul are 4 sloturi pentru memoria RAM, dar unul este ocupat cu o singura memorie de 8GB si se mai poate extinde. Nu este necesar sa cumparam un laptop care vine direct cu o memorie de 16GB sau 32GB pentru ca putem adauga noi singuri mai mult RAM daca avem nevoie. Dar eu cred ca cei 8GB de memorie RAM sunt suficienti.
Un alt aspect placut la Asus G751JY-T7015D este si tastatura lui. Un laptop de gaming are nevoie de o tastatura iluminata, dar si confortabila. Acest model are o tastatura dintr-o singura bucata care are o rezistenta sporita si un aspect placut. Spun asta pentru ca laptop-ul trebuie sa arate si bine. Nu este un model business, deci aspectul conteaza la fel de mult ca performanta.
In concluzie, Asus G751JY-T7015D este cel mai bun model de laptop de gaming avand un pret rezonabil fata de alte modele si costa doar 6400 de lei beneficiind de o reducere de 500 de lei. Sunt si alte modele, dar nu cred ca este necesar sa dati 9,000 de lei pe un laptop care ruleaza jocurile la fel de bine ca acest model. Daca doriti un laptop de gaming acesta este cel mai bun model raportat la performanta/pret de pe piata. Tineti cont ca am ales un model care are o eficienta foarte buna la racire. Il puteti achizitiona de la Emag accesand acest link.