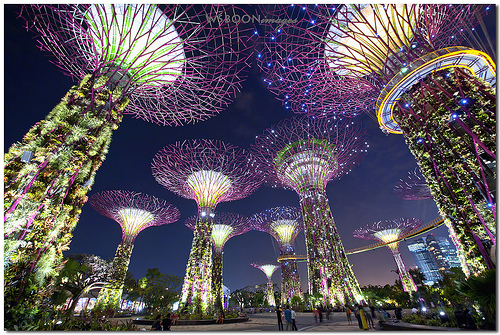 In Gardens by the Bay se desfasoara un proiect foarte ambitios, mai exact se testeaza programul "super WiFi".
"Autorităţile folosesc frecvenţele vechi, pe care obişnuiau să fie transmise semnalele de TV analog înainte de trecerea la sistemul digital, pentru a lansa un sistem public Wi-Fi de acces la Internet."
Gardens by the Bay este un parc din mijlocul orasului Singapore, acoperind nu mai putin de 101 ha, acesta fiind inaugurat in anul 2012. Parcul impresioneaza turistii cu ai sai 18 copaci care genereaza energie solara si care adapostesc gradini verticale unde se gasesc foarte multe variatii de plante. Acest parc are o istorie foarte interesanta pe care v-o recomand sa o cititi.
Totodata aici este locul perfect pentru a realiza niste panorame minunate, posibil o destinatie foarte apreciata de amatorii de fotografie.
Autoritatile singaporeze incearca sa transforme semnalul TV analog la o frecventa care va putea fi folosita de catre turisti pentru a se conecta la WiFi. Astfel, toti vizitatorii isi pot lua cu ei laptopurile sau tabletele, putand astfel sa fie la curent si cu ultimele stiri si tendinte.
Dr. Ser Wah Oh, cel care se ocupa de acest proiect a anuntat ca vor fi necesare peste 300 de statii de baza pentru a putea acoperi intreaga suprafata a insulei, facand ca acest proiect sa prezinte cu adevarat numele atribuit, "Super WiFi".
Stim cu totii ce ar insemna sa se aplice acest plan si la noi, dar totodata, trebuie sa luam in calcul si dimensiunea statului Singapore, avand o suprafata de 700 de km patrati, fata de 238000 de km patrati ai Romaniei, Comparand aceste cifre, Singapore are dimensiunea a catorva judete, deci acest plan poate fi pus la punct.
Daca aceasta idee va fi de succes, Singapore ar putea deveni in doi ani primul stat al globului care ofera populatiei WiFi gratuit pe intreaga sa suprafata.