Traim in era tehnologiei, suntem contemporani cu o revolutie tehnologica de mari proportii. Ce include ea, pe langa smartphone-uri super-performante si alte gadget-uri care te lasa cu gura cascata? Ei bine, asistam la o revolutie in mediul mobil, un adevarat boom al noilor tehnologii. Consumatorul se adapteaza permanent schimbarilor, iar companiile trebuie sa tina cont de acest aspect si sa foloseasca inteligent noile modalitati de promovare. De ce? Va dau doar un motiv: Rata de penetrare a telefoniei mobile este in momentul de fata 112,3%!!!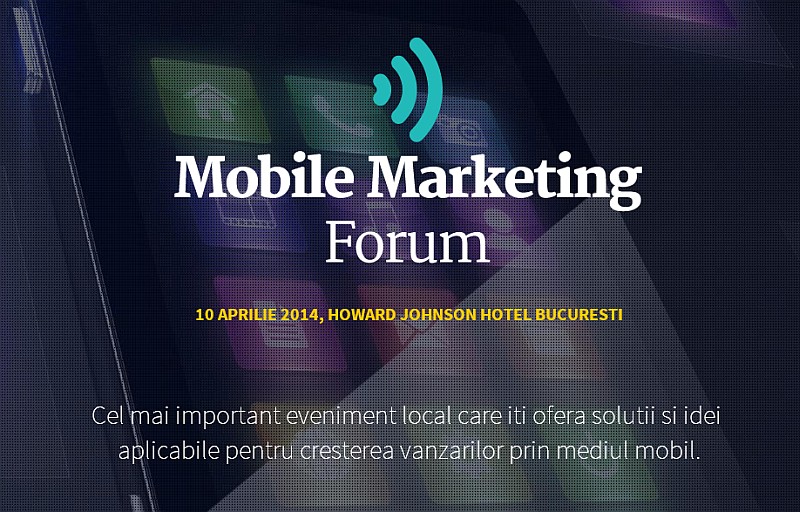 In data de 10 aprilie va avea loc la Howard Johnson Hotel Bucuresti cea de-a saptea editie a Mobile Marketing Forum , cel mai important eveniment de promovare si crestere a vanzarilor in mediul mobil. In cadrul acestui eveniment specialistii vor prezenta o gama larga de tendinte,oportunitati si sfaturi  pe care participantii le pot lua  in calcul atunci cand vine vorba de viitoarele campanii de mobile marketing. Evenimentul include intr-o singura zi patru sesiuni de conferinte, intalnirea anuala a dezvoltatorilor de aplicatii mobile, MobileApps Meetup, si Mobile Awards, gala de premiere a celor mai inedite campanii si aplicatii mobile din piata. Sesiunile cuprind o jumatate de zi de dezbateri, studii de caz si dialog despre inovatiile tehnologice si resursele prezente pe plan local. Intalnirea va fi astfel o buna ocazie de socializare si schimb de idei.

Cei care aleg sa participe se vor bucura de prezenta unui invitat deosebit de special, Dariusz Zalewski (Services Head, Central Europe, Nokia, Polonia), care va prezenta o perspectiva internationala despre evolutia mobile din ultimul an si schimbarile pe care specialistii trebuie sa le aiba in vedere.  Pe langa Zalewski vor mai lua cuvantul in cadrul evenimentului si Maia Novolan, Managing Director, Syscom Digital; Ylyan, Creative Director, Ilyan.com; Bogdan Apostol, General Manager, Voxline; Nir Refuah, General Manager and Chief Techonology Officer, MRM Romania; Alexandru Cernatescu, CEO & Co-Founder, Infinit Solutions Agency; Dan Virtopeanu, Managing Partner, Breeze Mobile; Alex Putineanu, Managing Director, Mobile Works; Dimitris Sideridis, Head of Creative Technology, Momobi, Petru Jucovschi, Technical Evangelist, Microsoft; Florin Ionescu, Project Manager, Ascend NetSolutions; Gabriel Sabiescu, Lead Mobile Developer, XL Team.
Evenimentul este organizat de Evensys impreuna cu Nokia, Unicredit Tiriac Bank, Syscom Digital  si Voxline. Daca doresti sa afli mai multe detalii cu privire la acest eveniment care se anunta a fi foarte interesant, intra pe site-ul www.mobilemarketingforum.ro