Multi dintre noi ne mandrim cu faptul ca putem sa scriem mesaje in timp ce iesim dintr-un bar, dar un adolescent se lauda mai tare decat toti – este oficial cel mai rapid scriitor de mesaje din lume.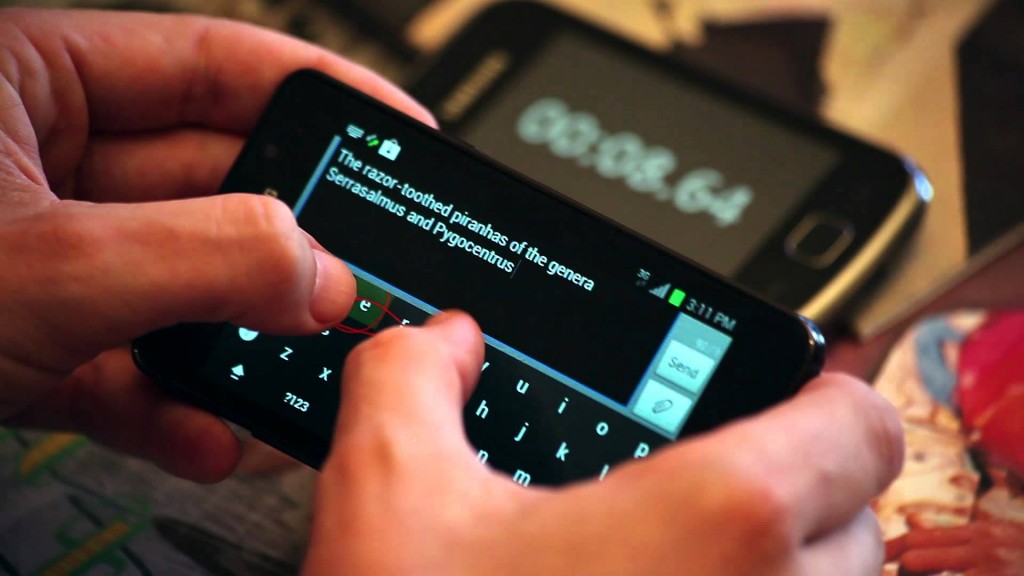 Folosind Flesky, o aplicatie-tastatura, Marcel Fernandes a batut vechiul record si si-a facut loc in istorie in Cartea Recordurilor. Si a facut asta tastand.
Fernandes, un baiat de 16 ani din Brazilia, a tastat un paragraf de 25 de cuvinte in 18.19 secunde pe 25 aprilie. Recordul anterior a fost batut in ianuarie de catre Gaurav Sharma, un baiat de 15 ani din Seattle. Sharma a scris acelasi paragraf in 18.44 de secunde folosind cel mai nou software de Windows Phone 8.1 al lui Microsoft, cu laudata tastatura Word Flow.
Paragraful pe care ambii detinatori de recorduri au trebuit sa il tasteze este ciudat si mai lung decat orice am scris majoritatea dintre noi vreodata intr-un mesaj:
The razor-toothed piranhas of the genera Serrasalmus and Pygocentrus are the most ferocious freshwater fish in the world. In reality they seldom attack a human.
Adica "Piranha cu dinti-lame din genul Serrasalmus si Pygocentrus sunt cei mai feroce pesti de apa dulce din lume. In realitate, ei rareori ataca oameni."
Fernandes, in ciuda faptului ca este un adolescent si un utilizator avit al telefonului, nu se considera dependent de a trimite mesaje.
"De cand eram un copil, intotdeauna am iubit telefoanele mobile, si inca mai iubesc smartphone-urile in ziua de azi," a declarat pentru CNN. "Dar nu ma consider dependent de a folosi smartphone-uri, si nu imi petrec toata ziua folosindu-le."
Cat despre fondatorul Flesky, Ioannis Verdelis nu putea fi mai fericit. "A fost meseria noastra din prima zi sa facem tehnologia noastra sa bata recorduri," a spus el pentru Mashable.
In onoarea evenimentului, compania a lansat un update pentru aplicatia de Android, incluzand un concurs pentru baterea recordului. In urmatoarele doua saptamani, ultilizatorii sunt rugati sa bata recordul mondial al lui Fernandes. Utilizatorul cu cel mai mare scor va primi un Nexus 5 si primii zece din top primesc o copie gratuita a celei mai noi Carti a Recordurilor. Aplicatia este gratuita pentru 45 de zile si valabila pe Google Play.