Conform The Wall Street Journal, proiectul pentru masina Apple a fost aprobat in urma cu un an, de catre CEO-ul Tim Cook. Steve Zadesky, un veteran al Apple si fost inginer la Ford, este liderul proiectului, care este numit Titan.
In mod secret, Apple a angajat oameni din industria automobilelor. Una dintre angajari il include pe fostul presedinte si CEO al Mercedes-Benz din departamenul Cercetare si Dezvoltare, care a contribuit la dezvoltarea Ipod si Iphone. Intr-un raport al celor de la The Wall Street Journal, este sustinuta ideea ca Apple a angajat sute de oameni pentru a dezvolta masina electrica marca Apple. Potrivit raportului, numarul de angajati ar putea fi de peste 1000 de persoane.
Aceste zvonuri sunt doar speculative, nu exista o confirmare a celor de la Apple, cu privinta la masina electrica. Dar cum toate zvonurile despre Apple au fost adevarate si acesta ar putea fi adevarat.
Zvonurile pot fi adevarate  si datorita unei conversatii pe care a avut-o un membru Apple, la Parsons The New School for Design, care a afirmat ca daca Steve Jobs ar fi mai trait, Icar era urmatorul sau proiect.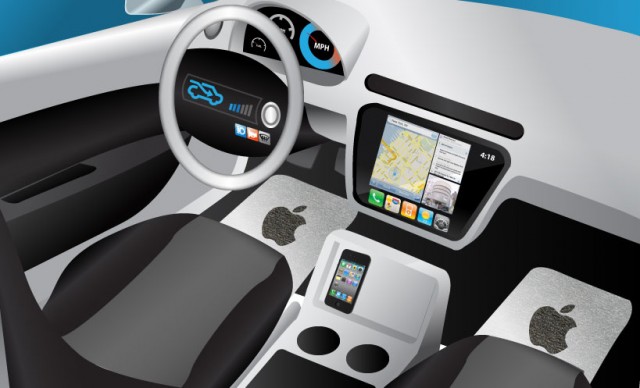 De ce ar vrea Apple sa intre pe piata automobilelor?
Dupa parerea mea, Apple vrea sa intre pe piata automobilelor datorita rivalitatii pe care o are cu Google. Google a investit in masini Tesla care se conduc si se parcheaza singure.
Raportul The Wall Street Journal, cu privire la masina Apple, spune ca masina electrica nu va fi una cu auto-conducere iar raportul celor de la Reuters contrazice acest lucru, zicand ca masina electrica va avea functia de auto-conducere, aceste zvonuri nu sunt din interiorul Apple.
Cred ca Apple lucreaza, in mod secret, la o masina electrica cu functia auto-conducere pentru ca acesta este viitorul masiniilor. Tehnologia avanseaza repede si o masina fara auto-conducere nu cred ca s-ar vinde bine si Apple ar putea pierde bani cu noul proiect.
Pentru cei care urasc sa conduca o masina, masina cu functia auto-conducere este ceea mai potrivita alegere.