Tanarul Ionut Budisteanu a castigat marele premiu la concursul Intel International Science and Engineering.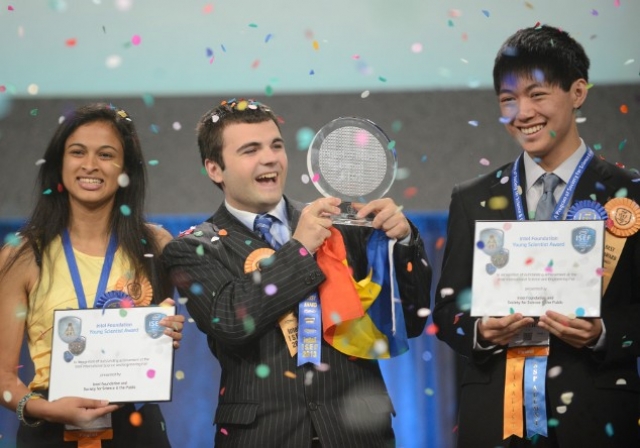 In timp ce mari companii precum Google, BMW, Audi si Volkswagen toarna milioane de euro in cercetare si dezvoltare pentru a face masinile sa se conduca singure – utilizand componente si tehnologii costisitoare – un elev de 19 ani din Ramnicu Valcea ii spulbera  cu un proiect de sistem autonom pentru vehicule care ar costa doar 4.000 de dolari.
Design-ul elevului de clasa a XII-a si-a adjudecat marele premiu al concursului, premiul Gordon E. Moore, in valoare de 75.000 de dolari, si s-a clasat pe locul I si la categoria sa de participare, Inginerie.
Concursul Intel International Science and Engineering – Intel ISEF – este considerat cel mai mare concurs de proiecte stiintifice menite elevilor de liceu, editia din acest an adunand in jur de 1,600 de liceeni de la 433 de concursuri afiliate tinute in peste 70 de tari, regiuni si teritorii. Concursul da mai multe premii care totalizeaza peste 4 milioane de dolari dar premiul Gordon E. Moore este cel mai prestigios.
Conform lui Budisteanu, scopul sau a fost sa scoata din ecuatie nevoia pentru un radar 3D cu rezolutie inalta care este foarte costisitor – si care se gaseste la baza tehnologiei aflata pe masina autonoma Google.
Pentru a-si face design-ul mai ieftin, el a folosit un radar 3D cu rezolutie mai redusa, mult mai ieftin menit sa recunoasca obiectele mari, cum ar fi alte masini, cladiri si copaci, in timp ce o webcam-uri montate pe vehicul sunt utilizate pentru a detecta marcajele de pe carosabil, curbe si pentru a monitoriza pozitia autovehiculului in timp real.
Imaginile de la radarul 3D si de la webcam-uri sunt apoi analizate de o inteligenta artificiala – scrisa de catre Ionut – care ruleaza pe o suita de computere pentru a calcula o ruta sigura pentru masina. Tanarul si-a testat design-ul in 50 de simulari de trafic real, si sistemul lui s-a comportat perfect in 47 dintre acestea. El spune ca utilizarea unui radar cu o rezolutie putin mai mare – si care tot ar fi mult mai ieftin decat cel utilizat de Google – ar rezolva si acele cateva situatii.
Se pare ca tanarul care isi da Bacalaureatul anul acesta a atras deja fonduri de la o companie autohtona pentru a testa un prototip al sistemului sau in urmatoarele luni.
Alti castigatori ai concursului ii includ pe Easha Khare din Saratoga, California, in varsta de 18 ani, care a luat premiul Intel Foundation Young Scientist in valoare de 50.000 de dolari pentru inventia unui dispozitiv foarte mic care se poate instala in bateriile telefoanelor mobile si care le face pe acestea sa se incarce complet intre 20 si 30 de secunde.
Un alt premiu de 50.000 de dolari s-a dus la tanarul Henry lin din Shreveport, Louisiana, in varsta de 17 ani, care a creat o simulare a mii de grupuri de galaxii, astfel oferindu-le cercetatorilor informatii noi si valoroase cu care sa studieze materia si energia intunecata, precum si echilibrul dintre incalzirea si racirea obiectelor cele mai masive din univers.