Google nu este prea sigur pentru utilizatori sau cel putin asa reiese din ultimele date publicate de Rupert Murdoch care spune ca "NSA privacy invasion bad, but nothing compared to Google." mai exact "Invadarea intimitatii de catre NSA este rea, dar nu este nimic in comparatie cu Google". Mai mult, pe langa Google Maps si alte aplicatii pot accesa si ele locatia noastra si pot colecta date despre aceasta.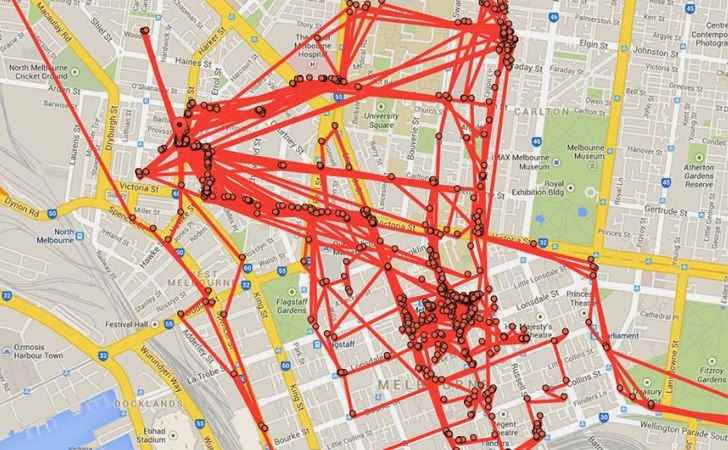 Securitatea nu mai este ce a fost, iar acum datele noastre personale ajung in mana guvernelor sau a hackerilor. Sigur, in mana hackerilor ajung mai greu pentru ca ei trebuie sa treaca de niste sisteme de securitate, dar guvernele au acces la ele in voie.
Smarphone-urile sunt niste terminale mobile, practic niste telefoane cu o multitudine de senzori. Cu totii avem astfel de terminale, iar anul trecut (sau acum doi ani) aparea un scandal cu cei de la Apple ca retine locatia utilizatorului. Se pare ca nici Google nu face exceptie.
Elizabeth Flux editor al revistei Voiceworks spune:
"You can yourself check your every move from here. You just need to log in with the same account you use on your Smartphone, that's it. The map will display all the records of everywhere you've been for the last day to month on your screen."
Traducere:
Tu poti verifica singur fiecare miscare pe care o faci de aici. Tu doar trebuie sa te loghezi cu acelasi cont pe care il utilizezi pe smartphone, asta e tot. Harta iti va arata fiecare miscare pe care tu ai facut-o in ultima zi sau luna pe ecran."
Locatia noastra trebuie sa fie o chestiune privata chiar si pentru autoritati si Google. Nu este o problema folosirea GPS-ului pe telefon, ba este chiar util. Problema apare cand Google indexeaza toate miscarile pe care noi le facem. Mai ingrijorator este faptul ca alte aplicatii se pot folosi de locatia noastra.
Cu toate acestea, putem dezactiva locatia noastra din Setari/Securitate sau direct Locatie si alegem Off. De asemenea putem sa vedem si aplicatiile care au cerut accesul la locatia noastra. Este recomandat sa dezactivam locatia pe terminalele mobile si sa nu utilizam aplicatii care ne cer sa ne furnizam locatia. In general aplicatiile Meteo ne cer acest lucru. Este recomandat sa introducem noi orasul care dorim sa apara pentru a furniza date meteo. Insa nu numai aplicatiile meteo ne cer acest lucru.
Google se apara si spune ca informatiile colectate de la utilizatori ii ajuta sa afiseze reclame cu interes mai mare pentru utilizator.
Toata aceasta problema cu intimitatea pe internet a fost accentuata de Edward Snowden care a aratat lumii ca NSA colecteaza orice informatie despre utilizator. E bine de stiut ca undeva se stocheaza aceasta informatie asa ca este bine sa avem o grija mai mare.