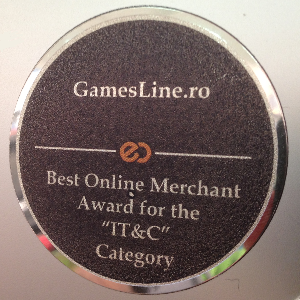 Trebuie sa recunosc de la inceput faptul ca sunt fan Gamesline de multa vreme. Daca in trecut le-am luat un interviu in care intrebam tot felul de chestii interesante, astazi a venit vremea sa ii laud pentru seriozitatea si eficiwnta de care au dat dovada timp de trei ani la rand.
Pe baza serviciilor de calitate de care au dat dovada, au reusit si acest an sa fie declarati cel mai bun magazin din categoria IT&C al Galei Premiilor e-Commerce 2012. Aceasta s-a desfasurat la Crystal Palace Ballrooms in data de 30 octombrie.
Mai jos puteti citi un comunicat de presa din partea celor de la Gamesline.
Cel mai bun magazin online IT&C – GamesLine.ro

In cadrul Galei Premiilor eCommerce 2012, editia a VII-a, care s-a desfasurat pe 30 octombrie, a adus in vitrina GamesLine.ro, pentru a treia oara consecutiv, trofeul GPeC, placheta care acorda meritul "Best Online Merchant Award for the IT&C Category".

Comertul electronic se poate traduce printr-o competitie acerba, o lume in care detaliile fac diferenta, iar GPeC acorda respectul si meritul magazinelor care stiu sa se adapteze an de an acestui mediu turbulent.

"Lupta" pentru premiile din acest an s-a dat intre cele 90 de magazine online, inscrise in perioada aprilie-mai 2012. Pe langa cele 18 criterii de preselectie foarte riguroase impuse de organizatori, alte 85 de criterii de jurizare alaturi de "Voice of Customer" au stabilit topul participantilor.

In categoria IT&C, 20 de magazine si-au dorit sa fie numarul 1, dar juratii au decis, ca si in 2010 si 2011 ca prima pozitie sa fie ocupata de GamesLine.ro.

Pentru al 2-lea an consecutiv, GamesLine a devenit magazin certificat Trusted raspunzand activ asteptarilor si mentinand increderea clientilor la un nivel superior. Seriozitatea serviciilor si promptitudinea sunt elementele de baza care le-au adus recunoasterea in comertul electronic.

"Faptul ca reusim sa ocupam primul loc cu un magazin care vinde jocuri originale, in conditiile in care criza a afectat bugetul gamerilor iar pirateria este in crestere, demonstreaza importanta acordata atributelor: calitate, eficienta, rapiditate", a declarat managerul GamesLine.ro, Edi Tecsan.

Despre Pro Strategy Group S.R.L.

Firma cu capital integral romanesc, a lansat magazinul online in martie 2010 sub marca GamesLine, inregistrata la Oficiul de Stat pentru Inventii si Marci.

In septembrie, dupa 6 luni de existenta, castiga locul I la Gala Premiilor eCommerce, iar in noiembrie 2011 si octombrie 2012 repeta experienta castigand premiul pentru cel mai bun magazin din categoria IT&C. PSG livreaza in Romania jocuri video pentru PC si console, accesorii, action figures si alte articole de gaming licentiate – marci ale companiilor: Activision, Blizzard, EA Games, Konami, Lucas Arts, NC Soft, Nintendo, Rockstar Games, Sega, Ubisoft etc.